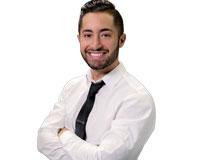 Eric exemplifies elite work ethic, integrity, and energy. As your real estate professional, he will consistently exceed every standard of customer service to help you achieve your individual goals. With a professional and passionate approach, Eric represents both buyers and sellers in achieving success. Look to Eric for the personal experience and dedication needed in the ever changing landscape of Lake Havasu real estate.

Eric has been living and working in Lake Havasu for 10 years since moving from Los Angeles, California. During his time Eric has been a dedicated productive member of the local business community, and an involved member of the Havasu Leadership Development program.

The real estate industry has been an intricate part of Eric's life for numerous years. Having a very strong circle of mentors, he has had the privilege to learn and be influenced by experienced and strong professionals. Eric can now pass his knowledge and experience on to you. Personal progression and development plays a very crucial role in Eric's life. He strives to make every aspect of all real estate transactions the best one possible for each individual client, while creating an everlasting relationship. During his free time Eric enjoys everything that Lake Havasu has to offer, from awesome golf courses to riding around in the desert and spending time with friends and family.
Send Eric a Message